Mrs. Jones' Second Grade Classroom
Embrace God's Universe
---
Embrace God's Universe
Happy Advent- Second Week-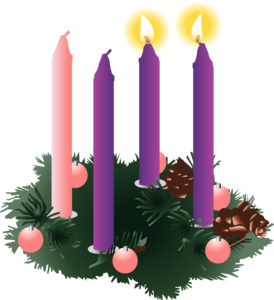 We are moving right along with our Advent activities. In religion we are focusing on the Advent season as we prepare for our Savior to be born on Christmas Day.
Reading- test Wednesday on Super Storms. In writing we wrote how we can make the Grinch grin. Currently we are completing a creative writing piece about how Rudolph's nose became red. This week we are reading an Elf Memoire and making a To Do List for the elves along with Santa being stuck in my chimney. Grammar- verbs and pronouns. We will be making a Pronoun Christmas Tree.
Math- I have introduced the beginning steps of regrouping with addition in this unit.
Hw this week – HW book pages 61, 62,63,64
Science- We are learning about Reindeer. We are learning about their environment, what they eat, their characteristic traits, Herbivores vs. Carnivores
BROWN BAG LUNCH TOMORROW
SNATA HAT DAY FRIDAY
Happy November
11-27-17
I hope you all had a wonderful blessed Thanksgiving with family, friends, and loved ones.
Religion–Family to Family gift card donations are due on December 7.  Suggested gift cards are:  ShopRite, Target, Walmart, Kohl's, Barnes and Nobles, Friendly's….Any amount is greatly appreciated!
Reading- New Story The Ugly Vegetables
Spelling- Spelling Menu- new words found on page 100
Math- Chapter 6- Math HW book pages 35+36
Social Studies- please review rural, urban, and suburb community and what makes up those communities- Examples- Urban- A city- many people, not a lot of open land, most houses are built very closely together. Lots of apartment buildings and skyscrapers
11-20-17
Math- Chapter review page- test Wednesday
Social Studies- Finish coloring for project and glue down wallet sized picture of yourself if still needed.
11-14-17
Please bring in a canned good by tomorrow
Math- Quick review tonight and check crossword puzzle- chapter test is WEDNESDAY
Finish Deer if needed- this was classwork
We are taking a break from the basil reader. We are reading the novel Thanksgiving on Thursday- this is a Magic Tree House book. We will be reading this together in class while learning about the Pilgrims and their voyage on the Mayflower
Conferences will start on Friday- Friday is a half day. I look forward to seeing all of you.
Many Blessing this Thanksgiving. We all have so much to be Thankful. I am most certainly thankful for all of your beautiful children.
11-7-17
We are starting a new unit in math. We are continuing with Place Value. We are learning place value up to the Thousands.  Hw for the week Tuesday page 131- Wednesday 132 Thursday 133. We will incorporate place value activities to go along with our camp out unit. We have Base "tents" up to the hundreds and s'more numbers that also go up to the hundreds.
ILA- We are beginning our Camp out unit- we will explore animals, animal habitats, animals that hibernate. Stories about fishing, hibernating, and writing stories for our camp out next Monday. Please have your child bring in a sleeping bag or blanket for next Monday. It will be our camp out day!!! Please know that all of our centers are engaging, hands-on and center all around our camp out theme this week.
Spelling- Words are found on page 79- test Friday. Please complete a Spelling Menu each night. Test Friday
Reading- Read story- Animals Building Homes- Test next Tuesday
Turkey Tom Project went home today- please check your child's folder for information.
Social Studies- New Unit on Communities- Rural, Urban, and Suburban Communities- Please make sure your child knows their address.
10-30-17
Homework for the week- this will be my only post
Reading- Test Thursday- Teacher's Pet-
Spelling- Test Thursday for Teacher's Pet words. Words are found on page 70 in Journey's Notebook.
Math- Test Friday on Chapter 5- place value..Tens and Ones. Identifying the place and the value- example 78= 7 tens and 8 ones 70+8  greater than and less than- Other ways to show numbers- grouping of tens and ones in a picture, word form, place value blocks.
Finish classwork in green folder if needed
Black and Orange Day tomorrow
Pumpkin Day Friday- please bring in Pumpkin
10-18-17
Reading- Read A Diary of A Spider- test Wednesday
Science- Fill in moon chart
Spelling- Spelling Menu- shaving cream test Friday
Math- Study for math test tomorrow
10-17-17
Math- finish odd #'s for the chapter review- test Thursday
Science- Fill in Moon Sheet
Reading- 4 facts- see info from 10/16
Spelling- Spelling Menu- lesson 4 new words – Long O and Long U
Scholastic Book Order due FRIDAY- please purchase on line
10-16-17
Math- Test will be moved to Thursday of this week. We needed a little more review than expected and will complete a few extra activities. I don't like to rush and I will change the schedule up when I feel they need me too 🙂
Reading- It's Spider and Insect week- Please find any kind of spider you would like to learn more about. Name the spider and write 4 facts about it. You can do this in your journal- also draw or print a picture of the spider- due Wednesday.
Spelling- Long O and Long U words- no spelling HW this week- we will do activities in school. We will be having a shaving cream test on Friday- Please send in a can of shaving cream if you have it at home. Thank you!
Science- Fill in Moon Chart
Scholastic Book Order Due Friday- class code FMK4N- Please order on line- I do not take checks- thank you! 🙂
Half Day Thursday
10-11-17
Math- Hw book page 18- test Tuesday on Subtraction and Fact families
Reading- Test tomorrow on Dogs
Spelling- test tomorrow on Long a and Long I words hint hint- this was part of our phonics lessons too 🙂
Spelling- Spelling test tomorrow- Please write 4 silly sentences- use as many spelling words in each sentence as you can.
Reminders: PICTURE DAY IS TOMORROW- PLEASE WEAR REGULAR UNIFORM WITH SNEAKERS
10-10-17
We are moving right along on our 23 days of school 🙂 We have our routine down and the children are very acclimated to our 2nd grade environment. We finished our first round of centers for ILA and Math. We are now headed into our second round. This theme is fall into Math and ILA. We are raking up ABC order, ordering apples, completing leafy synonyms and apple antonyms, Ordering the corn, finding patterns in our pumpkin patch and working in small groups with Mrs. Jones.
We have a new group of spelling words- long a and long i words- look for patterns and phonics connections. Homework will be a little different this week: no spelling menu due to our short week.
Math- we have made it to the middle of the subtraction chapter. Our test will be next Tuesday.
Science- They can't get enough of our space unit. We are having a blast!!! I would love it if someone was able to send in a package of Oreo cookies. Please e-mail me if you can donate to our class. We will be making the phases of the moon with the icing.
HOMEWORK
Math- hw book pages 15+16
Reading- Read Dogs- test Friday
Science- Fill in moon chat
Spelling- Complete Journeys notebook page 40
10-5-17
test folders went home today- please sign only tests- Reading, math and spelling test. All other items can stay home 🙂 Thank you, have a great 3 day weekend!
10-4-17
Spelling- Spelling Menu and study for test tomorrow
Science- Fill in moon chart
go outside and play
10-3-17
Math- Hw book pages 13&14
Science- fill in moon chart
Reading- test tomorrow on My Family
Spelling- Complete Spelling Menu & test will be Friday
your children may come home a little dusty- we practiced writing our spelling words  outside with chalk- it comes off in the wash <3
10-2-17
We met our class pet today- It's cute brown dog and the class named it Cocoa! I can't wait to see what adventures Cocoa is going to go on with your families- I'm sure Cocoa will have a blast.
HW
Math- Test tomorrow on addition
Reading- My Family- test will be Thursday
Spelling- new words – Short O,U, E sounds they can be found on page 25 in the Journey's Notebook- please complete a spelling Menu activity- test will be on Friday
Science- Don't forget to fill in the Moon for each night for the month- you can always google nights that you missed.
9/28
Math- study for addition test on Tuesday- study guide is the chapter review from last night. We checked it today 🙂
Science- Moon Log- fill in what type of moon is outside tonight. We are doing this every night for the week.
9-27-17
Math- Chapter review page- odd numbers only. They completed the even numbers in class today. Test Tuesday on Addition chapter.
9-26-17
Sorry for all of the confusion on the Think Central site- it's a learning process for us all. Please don't forget that we are the school district of the Diocese of Trenton and then we are St. Joan of Arc
My Library- go into Student ebook- that will have the entire story- hit page view and go to double page to read it as a book on your screen. Journeys Student Notebook will have the spelling words and it is the same exact book as the one they brought home last week. The Re-telling picture cards are a great way to study for the test, they stir up some great comprehension questions you can use. Decodable readers are there for struggling readers. I encourage you to visit every tab on the site, it will help you or give you access to anything you can use. It really is a great tool to have. We will try this again and if it is still not working for you I will be glad to send the book home. I also gave the students a tutorial ad they also have it down pat….probably better than I do.. ha!!!
Spelling and reading test tomorrow
Math page 11
9-25-17
Math- HW book pages 7&8
Reading- Test Wednesday on Henry and Mudge please see access
www-k6.thinkcentral.com
login 2bstudent
password- sja2B2017 *please make sure the B is a capital letter
My Library- then student resources- student book- Henry and Mudge-
You will also see the spelling words listed as well.
If you are unable to login I will send home a reader, please send me an e-mail. Thank you and God Bless
Spelling- Spelling Menu- test Wednesday- complete hw in ILA notebook
Some students need to finish classwork from the past two weeks- I sent it home today to get completed. Thank you so much 🙂 I need to get home their weekly folders for you.
We will have our SUPERHERO day tomorrow- we didn't want to leave anyone out and some students were sick. We will be doing this tomorrow even if everyone is not present.
9-20-17
Math- HW book page 6
Spelling- Chose one spelling Menu activty
9-19-17
HAPPY TALK LIKE A PIRATE DAY- greetings from Mrs. Black Leg Bess
We are having a blast celebrating this day. We started off our day by picking our pirate name and making name tags. Ask your child their pirate name. We also made pirate hats, brainstormed "ar" words and wrote in our journals about "If I Were A Pirate". Their ideas are so cute. Some ideas were: Make people walk the plank, teach them to brush their teeth, help them count their gold, and have a treasure hunt. We read How I Became A Pirate, Pirates Go To School, and Are Pirates Polite?
Homework-
Spelling menu- it is located in their green folder. Pick one thing to do tonight and complete all work in their Centers/ ILA notebook. Their spellings words can be found on page 4 of the Readers Notebook. Their Spelling HW is in the back of their notebook- please label the activity of it is something I can not physically see but they completed it at home with you. Cross off the activity and please sign their HW- also don't forget to sign their assignment book. Thank you.
Example:
Spelling Homework 9-19  Fun Materials- we wrote our words with sidewalk chalk-
Mrs. Jones
Math- Homework book pages 4 & 5- there are only 5 problems.
9-13
We had a great day- Nothing new to add to our assignment book so we did not write in it nor do you have to sign it.
Take your time covering your books- no rush 🙂
9-12
Me Bag due tomorrow
Fill out and complete Superkid poster- this is due Monday
We will be having Superhero Day next Friday- Please bring in a plastic table cloth of their choosing (for their cape) by 9/21- We will become Superhero sentence makers 🙂 I will make their capes at school.
Next Tuesday 9/19 is National Talk Like a Pirate Day- we will have many activities focused and centered around the er- sound- we will also have fun in the classroom talking like pirates.
There is no rush to cover books- Math homework book and handwriting book are being sent home today- Just get them covered whenever you can. It's always crazy this time of year. I don't want to put a limit on it but please get to it whenever you can.
9-11
We had a great first full day!!!
Please cover Religion book and assignment book with clear contact paper
We read The Invisible Boy and made connections that related to our world and ourselves. We will spend time on this story this week. It is a fantastic book and I recommend you to read it 🙂 It sure does tug on your heart strings.
Hello 2B families,
I am so blessed to be your child's teacher this year. I am looking forward to meeting you all and sharing a wonderful year with you. Second grade is a fantastic year with many life long experiences that will forever leave a mark on their heart.
1.Please check your child's folder
2. Check brown envelope
3. See you all Thursday 9/14 at the PTA meeting
Scholastic CODE- Class code FMK4N
Enrichment schedule-
Monday- Computer
Tuesday- Music
Wednesday-Art
Thursday-Spanish/library
Friday-Gym
k.jones@stjoansk-8.org   e-mail me anytime for any questions you may have
 INTERACTIVE ONLINE MATH GAMES
Click on a links below to practice various math skills!
Addition Math-O
http://www.aplusmath.c om/games/matho/AddMatho.html
Addition Hidden Picture Game
www.aplusmath.com/ games/picture/AddPicture.html
Bang on the Clock Game – practice telling time
www.teachingtime. co.uk/clock2/clockwordsres.html
Math Magician Games
www.oswe go.org/ocsd-web/games/Mathmagician/cathymath.html
Math Facts Baseball
www.prongo.com/math/addition.htm l
Math Basketball
www.sciencea cademy.com/BI/ind ex.html
That's a Fact! – Game to practice basic facts
www. harcourtschool.com/activity/thats_a_fact/english_4_6.html
Work on place value with a SHARK!
www.ictgames.com/sharknumbers.h tml
Fun way to practice comparing numbers
www.toonuniv ersity.com/flash.asp?err=509&engine=9
Cool site to practice telling time
www.bbc.co.uk/w ales/snapdragon/yesflash/time-1.htm< /a>
Multiplication Hidden Picture Game
www.aplusmath.com /games/picture/MultPicture.html
Who Wants to Be a MATHIONAIRE?
www.mathsi sfun.c om/games/mathionaire-addition-quiz.html
Fun with Shapes
www.factmonster.com/math/ flashcards.html
Go on a spending sp ree! A game about money
www.primarygames.c om/Spending%20Spree/start.htm
Another fun game to practice math facts! See how many stars you can earn points
www.factmonster.com/math/ flashcards.html
Tons of fun math games here!
atschool.eduweb.co.u k/toftwood/resources.html
Harcourt Math
www.harcou rtschool.com/menus/math2004/math2004_gr2.html
The Dragon's Eggs – Practice odd and even!
www.ictgames.com/dragonmap.html
Pizza Party Math – Learn about fractions with pizza!
www.primarygames.com/ fractions/question1.htm
Multiplication Hidden Picture
www.aplusmath.com /games/picture/MultPicture.html
Adding 2-digit Numbers with Regrouping
www.dositey.com/2008/ad dsub/as85/add3r.htm
Explore Area and Perimeter (3rd Grade)
www.bgfl.org/bgfl/custom/resources_ftp/client_ftp/ks2/ma ths/perimeter_and_area/index.html
Explore Geometry and use trangrams to make different animals and objects!
pbskids.org/cyberch ase/games/area/tangram.html
Practice locating coordinates on a grid. Guide Billy Bug to the coordinates of the hidden grub! (3rd)
resources.oswego .org/games/BillyBug/bugcoord.html
Fold the shapes to determine how many lines of sym metry!
www.innovationslearning.co.uk/subjects/maths/activi ties/y ear 3/symmetry/shape_game.asp
Click on your grade level to practice many different math skills **PreKindergarten through 6th Grade Math**
www.ixl .com/