Welcome Mrs. Bloss' Third grade Classroom!
Blessed Are the Merciful
---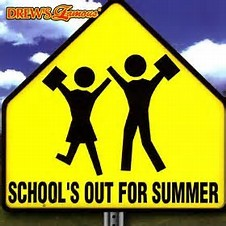 Blessed are the Merciful
June 14, 2015
Dear 3B Parents,
Each year I would hear my own parents marvel that time is moving faster and faster. I get it! This was indeed the fastest year of my career. Thank you for all of your support to make this year so fun and productive.
I usually suggest a few activities to keep us "fresh" over the summer. The most pressing is the need to DRILL the times tables. It is imperative to drill and increase speed. It is a skill that needs reinforcing to master. To combat the "summer slip" we ended our year with an introduction of 3digit by 1 digit. They loved the challenge!
This year was the first time I ever hosted two Literary Breakfasts. Please continue to foster that love of reading, and remember everyone loves to have a good story read to them. Our school does not require specific books over the summer, but we do have an excellent resource in our public library. Check out their summer reading programs and activities: http://www.bcls.lib.nj.us/get-ready-dig-reading-summer. I've enclosed a little book from Scholastic that highlights some current favorite authors and "classics". Enjoy this with your child and see if it sparks a trip to the library!
Cursive writing can also become a "rusty" skill. There are several available pages in the cursive book which came home. Can I suggest a weekly summer journal? Write a story or an account of summer adventures. I love reading my sons' writings from this age… They are sure to become a treasure.
Remember to relax and recharge. It's a good idea to plan your time for Sunday Mass. Sr. Pat encourages that every week with the children. My husband and I often refer to http://masstimes.org/ when we travel to know when and where we can attend Mass.
Thank you for choosing SJA. Thank you for supporting our classroom and for allowing me the privilege of teaching your children. I wish you all a very blessed summer. I do check school email over the summer, so if you or your child wants to check in with me, feel free to drop a line: a.bloss@stjoansk-8.org
Sincerely,
Mrs. Ann Bloss
Thank you for your continued support of purchasing Grocery Gift Cards. It supports the use of technology throughout our school!
***************************************************
Third grade is full of adventures! It is a time of tremendous  growth and memorable  milestones! This is the year we will develop  our cursive penmanship, master  the times  tables, become more proficient  writers, readers, grow closer to the Lord…and  so much more!
---
Please check  your child's backpack for the Brown Envelope on Wednesdays and look for test folders on most Fridays.
Specials schedule for 3B
Monday: Art
Tuesday: Gym
Wednesday: Spanish / Health for First Trimester
Thursday: Computers
Friday: Music / MediaCenter
Lunch will be the second session for grades 3-5 12:00 noon til 12:40
***********************************
Here are a few websites we may use in the classroom and you might enjoy at home; just click on the links below
http://kids.nationalgeographic.com/kids/games/interactiveadventures/tomb-unknown-mummy/
http://pbskids.org/cyberchase/math-games/tanagram-game/
http://www.kidsmathgamesonline.com/
http://jmathpage.com/topics/jmphead3rdgrade.html
http://www.spellingcity.com/kmchale/
http://www.mathgametime.com/subject/time-and-money
http://www.multiplication.com/
http://resources.oswego.org/games/ This is the website with lots of math games!
www.blestarewe.com
– support from publisher of our religion textbook. Try the games as a chapter review before a test.
www.eduplace.com –  is our math text publisher /choose NJ /choose math /choose ebooks /choose leveled practice/
ILA/READING STREET SERIES:  http://www.freidalewis.com/ Mrs. R. in first grade shared this link created by a talented teacher: Freida Lewis. Look for the third grade tab and it will take you to many activities that connect to our Reading Street Stories and Vocabulary.
---
I believe all children can achieve!  The teacher's role is to find and develop the best environment for the student's achievement. The best classrooms have an eclectic approach that responds to the individual and the group.  The teacher is to inspire a love of learning and be a catalyst to discovering independent, life-long learning.  The teacher has a responsibility to help instill values and virtues of respect, perseverance, and kindness.  The classroom teacher has a partnership with the family and whole school community to promote the healthy development of the student's mind, spirit, body and intellect.  I am honored to be called teacher.  – Ann Bloss
"All shall be well, and all shall be well, and all manner of thing shall be well." 
(Julian of Norwich )
---
---